There is no denying that Christmas is a special time of year. And what better place to spend it than in Melbourne, Australia?

Whether you're spending it with family, friends, or loved ones, there's always something to do and somewhere to go. But if you find yourself in Melbourne during the festive season, there are plenty of activities and attractions that are sure to get you into the Christmas spirit.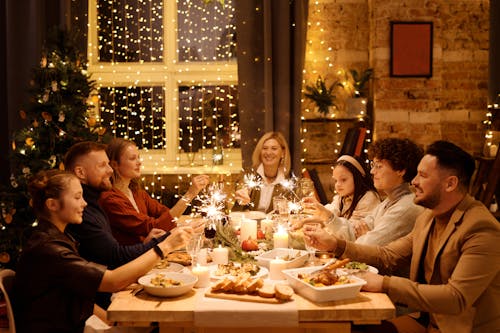 Here are some ideas of things to do during Christmas in Melbourne.
1. Visit The Queen Victoria Market
Queen Victoria Market is a must-visit at any time of year, but it is especially festive during Christmas. Browse the stalls for unique gifts and souvenirs, try some traditional Christmas foods, and enjoy the lively atmosphere.
2. Go Ice Skating At Federation Square
Federation Square comes alive during winter with its open-air ice rink. It's the perfect activity for a cold day, and you can skate surrounded by the beautiful architecture of the square.
3. Take A Christmas Lights Tour
One of the best things about Christmas in Melbourne is the beautifully decorated houses. Take a drive or walk around some of the city's most festive suburbs, and enjoy the displays of twinkling lights.
4. See A Christmas Show
There are plenty of Christmas-themed shows in Melbourne over the festive season. From musicals to Pantomimes, there's something to suit everyone's taste. Check out what's on and get your tickets early to avoid disappointment.
5. Attend A Carols By Candlelight Service
Carols by Candlelight is a much-loved Christmas tradition in Australia. Join in the singing at one of the many services held across Melbourne, and enjoy the festive atmosphere.
6. Go On A Christmas Day Cruise
What could be more festive than spending Christmas day cruising around Melbourne's harbour? There are plenty of cruises to choose from, so you can find one that suits your budget and preferences.
7. Spend A Day At The Beach
Melbourne may not be known for its beaches, but there are some great ones to visit if you're looking for a summer Christmas. Take a dip in the ocean, relax on the sand, and enjoy the warm weather.
8. Visit Santa At His Workshop
Take the kids to see Santa at his workshop in the North Pole – well, Melbourne's version of it anyway! They can meet Santa, have their photo taken, and make Christmas wishes.
9. Take A Ride On The Spirit Of Tasmania
If you're looking for a unique way to travel to Tasmania this Christmas, why not take the Spirit of Tasmania? The ferry journey takes around 10 hours, so you can relax and enjoy the scenery as you sail across the Bass Strait.
10. Have A White Christmas
Melbourne may not be known for its snow, but you can still have a white Christmas if you head to one of the city's ski resorts. Mount Buller and Mount Hotham are just a few hours drive from Melbourne, and they offer plenty of winter activities like skiing, snowboarding, and tobogganing.
11. Head To The Annual Santa Claus Parade
If you're looking for some festive fun, head to the annual Santa Claus Parade. This popular event sees hundreds of Santas marching through the city streets, bringing Christmas cheer to all who witness it. There's also live music, food stalls, and plenty of photo opportunities, so be sure to bring your camera along.
12. Take A Stroll Through The Royal Botanic Gardens
For something a little more low-key, take a stroll through the Royal Botanic Gardens and soak up the festive atmosphere. The gardens are beautifully decorated with lights and Christmas trees, making it the perfect place to escape the hustle and bustle of the city.

So, if you're looking for things to do during Christmas in Melbourne, these are just a few ideas. Whatever you decide to do, you're sure to have a memorable and festive time.

Happy holidays!

If you don't have plans during Lunch on Christmas, check out Brighton savoy's Christmas lunch.