Perth is a beautiful city with so much to offer tourists and locals alike. Where to go in Perth? Perth is a beautiful city located on the banks of the Swan River in Western Australia. The city is home to stunning architecture, miles of beaches and a thriving nightlife scene.
There is also no shortage of things to do, with options ranging from exploring the natural beauty of Kings Park to swimming with dolphins at Rottnest Island. 
If you're looking for a place to go for a weekend getaway, or you're just looking for something new to do in Perth, here are some great ideas!
1. Kings Park
Kings Park is one of the most popular places to visit in Perth. With its stunning views of the city skyline and Swan River, as well as its abundance of gardens and walking trails, it's easy to see why. There are also plenty of things to do in Kings Park, including visiting the War Memorial, the botanic gardens, and the children's playground.
2. Rottnest Island
No trip to Perth is complete without a visit to Rottnest Island. The island is only a short ferry ride from the mainland and it's home to some of the most beautiful beaches in Australia. It's also a popular spot for swimming, fishing, cycling and snorkelling.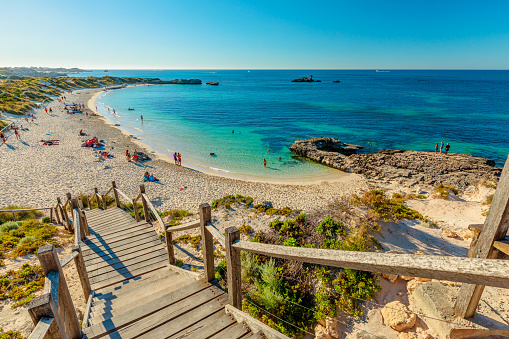 Rottnest Island is a beautiful island located just off the coast of Perth. It's a popular tourist destination, thanks to its crystal-clear waters, stunning beaches, and abundance of wildlife. You can visit Rottnest Island by ferry from Perth or Fremantle, or by plane from Perth Airport.
3. The Swan Valley
The Swan Valley is a wine-growing region located just outside of Perth. It's home to dozens of wineries, as well as a variety of restaurants, cafes, and shops. The Swan Valley is also a great place to go for a day trip, thanks to its many charming villages and attractions such as the Caversham Wildlife Park.
4. The beach
Perth is blessed with some of the most beautiful beaches in the world. Whether you're looking for a quiet spot to relax, or you're after a place to catch some waves, you'll find what you're looking for in Perth.
Popular beaches include Scarborough Beach, Cottesloe Beach, and Trigg Beach. They are well-known for their excellent surf and sand. Or if you're looking for something a bit more secluded, try heading to one of the many smaller beaches in the area. 
5. The city
Perth is a vibrant and cosmopolitan city with plenty to see and do. From its world-class restaurants and bars to its amazing shopping opportunities and cultural attractions, there's something for everyone in Perth. You can explore the city on foot, or take advantage of its excellent public transport system.
If you're after some shopping or nightlife, the city centre is the place to be. You'll find plenty of trendy restaurants and bars, as well as big shopping malls like Hay Street Mall and Murray Street Mall.
6. Perth Zoo
The Perth Zoo is another great spot for visitors, with more than 1,000 animals from around the world on display. You can also take a walk through the beautiful botanical gardens next door.
7. Fremantle
Fremantle is a port city located about 30 kilometres south of Perth. It is home to a large number of historical buildings, including the Fremantle Prison and the Roundhouse. The Fremantle Market is also a popular attraction.
These are just a few of the great places to go in Perth. Whatever your interests, you're sure to find something to enjoy in this beautiful city. So what are you waiting for? Start planning your Perth getaway today!
Thank you for reading! I hope this article has given you some ideas for things to do in Perth.